Agents of Change: Internal Auditors in an Era of Disruption
Richard F. Chambers, CIA, CFE, CGFM, QIAL, CRMA, CGAP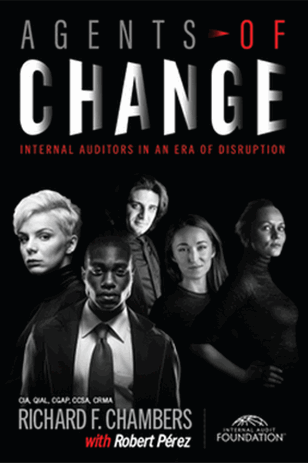 Agents of Change: Internal Auditors in an Era of Disruption
Agents of Change: Internal Auditors in an Era of Disruption is the final installment of a trilogy and meant to be a call to action for internal audit practitioners at all levels. To truly impart value, internal auditors must be catalysts for transformation that creates value within the organizations they serve.
Working with the Internal Audit Foundation, almost 600 chief audit executives (CAEs) and internal audit directors around the world were surveyed on what it takes to be an agent of change in twenty-first century internal auditing. The survey was followed up with in-depth conversations with CAEs who clearly model what it takes to be agents of change. The results were revealing and provided the basis for this book.
This book is full of practical suggestions that are useful to any auditor who wishes to become an agent of change. The author's vast knowledge and experience — and recommendations on how to apply his advice in day-to-day activities — add up to a recipe for success.
This book comprises three parts that make the case for becoming change agents, emphasize that internal auditors must start by changing themselves, and articulate the skills embedded in change agents' DNA:
Part One: A Legacy of Change
Part Two: Enacting the Change
Part Three: The Right Stuff
About the Author
Richard F. Chambers, CIA, QIAL, CGAP, CCSA, CRMA, is one of the leading voices and thought leaders in the internal audit profession. He has spent more than 40 years in internal audit and association management, including serving as president and CEO of The Institute of Internal Auditors (IIA) from 2009 to 2021. During his tenure at The IIA, he led the organization to achieve record membership while presiding over the launch of numerous key initiatives and achieving key milestones in certifications.
Prior to leading The IIA, Richard was national practice leader in Internal Audit Advisory Services at PWC; inspector general of the Tennessee Valley Authority; deputy inspector general of the U.S. Postal Service; and director of the U.S. Army Worldwide Internal Review Organization at the Pentagon.
A prolific blogger and highly sought-after speaker, Richard has authored two award-winning books: Trusted Advisors: Key Attributes of Outstanding Internal Auditors (2017) and Lessons Learned on the Audit Trail (2014), which is currently available in five languages. His third book, The Speed of Risk: Lessons Learned on the Audit Trail, 2nd Edition, was released in 2019. He has been consistently listed among the 100 Most Influential People in Accounting by Accounting Today, and among the most influential leaders in corporate governance by the National Association of Corporate Directors.