Collaborative Auditing
James Pelletier, CIA, CGAP, and Yuki Matsuura, CPA, CCSA, CRMA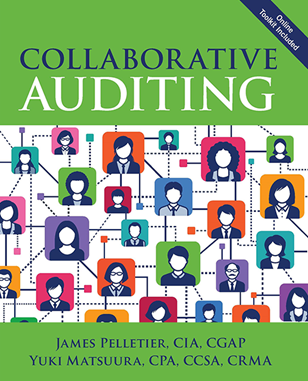 The role internal auditors play within their organizations continues to evolve, bringing new opportunities to consistently deliver value through high-quality work. The core principle of this book is an understanding that internal audit's responsibility goes beyond individual audit engagements to ensuring that key stakeholders are left with the knowledge and tools they need to improve processes and address the root causes of issues within their organizations.

Collaborative Auditing guides auditors step by step on how to effectively use these tools. Auditors will gain:

A more robust audit process focused on adding value in support of the organization's key objectives
Tools and techniques to effectively engage management and build strong professional relationships with key stakeholders
A framework for addressing the root cause of issues and providing high-impact insights to management.

Maximize your competency by going beyond the traditional role to use the audit process to engage and educate key stakeholders in managing their risk and meeting their objectives more effectively

About the Author

James Pelletier, CIA, CGAP, is vice president, professional solutions, at The IIA. He has more than 16 years of experience auditing in both the private and public sectors.

Yuki Matsuura, CPA, CCSA, CRMA, is a senior performance auditor for the City of Palo Alto, CA. She has more than 15 years of auditing and consulting experience in the public and private sectors.

Thank you to the IIA-Chicago Chapter for generously sponsoring this project.