The Speed of Risk: Lessons Learned on the Audit Trail, 2nd Edition
Richard F. Chambers, CIA, QIAL, CGAP, CCSA, CRMA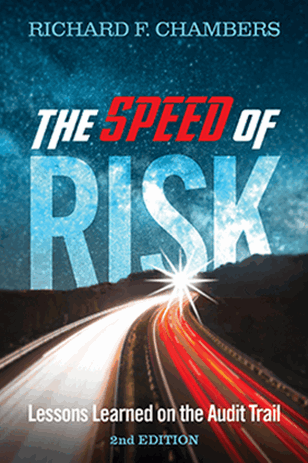 The Speed of Risk: Lessons Learned on the Audit Trail, 2nd Edition
In this 2nd edition of Lessons Learned on the Audit Trail, author Richard Chambers shares fresh perspectives on the lessons in the first edition and imparts new lessons learned during the last few years. He has invested more than four decades serving the profession. His belief and motivation in writing this new edition is that if he can help just one internal auditor to be better prepared for the challenges and opportunities that lie ahead, then the effort will have been worth it.
The author addresses topics of concern to the profession today, including.
The rising expectations of internal audit's stakeholders
The imperative to audit at the speed of risk
How internal audit must leverage innovation in the face of disruption
Internal audit's role in auditing culture, artificial intelligence, and new technologies
The idea that internal auditors can audit anything—but not everything.
About the Author
Richard F. Chambers, CIA, QIAL, CGAP, CCSA, CRMA, is one of the leading voices and thought leaders in the internal audit profession. He has spent more than 40 years in internal audit and association management, including serving as president and CEO of The Institute of Internal Auditors (IIA) from 2009 to 2021. During his tenure at The IIA, he led the organization to achieve record membership while presiding over the launch of numerous key initiatives and achieving key milestones in certifications.
Prior to leading The IIA, Richard was national practice leader in Internal Audit Advisory Services at PWC; inspector general of the Tennessee Valley Authority; deputy inspector general of the U.S. Postal Service; and director of the U.S. Army Worldwide Internal Review Organization at the Pentagon.
A prolific blogger and highly sought-after speaker, Richard has authored two award-winning books: Trusted Advisors: Key Attributes of Outstanding Internal Auditors (2017) and Lessons Learned on the Audit Trail (2014), which is currently available in five languages. His third book, The Speed of Risk: Lessons Learned on the Audit Trail, 2nd Edition, was released in 2019. He has been consistently listed among the 100 Most Influential People in Accounting by Accounting Today, and among the most influential leaders in corporate governance by the National Association of Corporate Directors.
Richard and his wife, Kim, reside in New Smyrna Beach, Florida, and have three grown daughters, Natalie, Christina, and Allison.