Trusted Advisors: Key Attributes of Outstanding Internal Auditors
Richard F. Chambers, CIA, QIAL, CGAP, CCSA, CRMA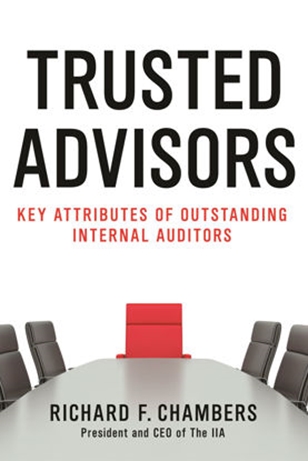 Trusted Advisors: Key Attributes of Outstanding Internal Auditors
As internal auditors, trust is crucial to ultimate success. It's important in gaining stakeholder's confidence when offering advice on critical issues and effecting positive outcomes.
In Trusted Advisors: Key Attributes of Outstanding Internal Auditors, Richard F. Chambers taps an array of leading internal auditors and, from their experiences, provides insights into the traits that characterize outstanding internal auditors and those who have also truly earned a seat at the table.
Based on a global survey of nearly 300 chief audit executives (CAEs) and one-on-one interviews, Chambers details the personal, relational, and professional attributes of outstanding internal auditors, including:
Ethical resiliency

Results focus

Intellectual curiosity and open-mindedness

Dynamic communication and inspirational leadership

Insightful relationships

Critical-thinking skills, business acumen, and technical expertise
Whether you are just getting started as an internal auditor or you're a seasoned veteran, the insights gleaned from the collective experience of these experts will help propel you to the next phase of your career.
About the Author:
Richard F. Chambers, CIA, QIAL, CGAP, CCSA, CRMA, is president and CEO of The IIA, the global professional association and standard-setting body for internal auditors. With more than four decades of internal audit and association management experience, he has held various leadership roles in the private and public sectors. He has received numerous awards, including being named by Accounting Today as one of the "Top 100 Most Influential People in Accounting." He authored the award-winning book, Lessons Learned on the Audit Trail, which is currently available in five languages.
Thank you IIA-Dallas, IIA-Houston, and IIA-Toronto Chapters for your sponsorship of this Internal Audit Foundation publication.