Format:
NOTE: Your registration confirmation email will come from The IIA. All subsequent emails containing log-in access will come from the webinar presentation provider:do_not_reply@on24event.com. You may want to add this address to your system's "safe" list. Otherwise, it may go to a spam folder. Two log-in/access emails are sent: 1 day prior, and 2 hours prior to the start of the webinar.
As an important source of assurance, Internal audit is favorably situated to help management as well as the Board identify key risks related to cloud adoption and usage. Join us to learn more on how to effectively audit organizational Cloud computing and manage its risks.
Executive Members (Tiers 1,2,4,5), please sign in to register. Once signed in, scroll to the bottom of the page and select the "Add to Cart" button. There is no cost to register.
This Executive Roundtable is an exclusive benefit only available to Executive Members (Tiers 1,2,4,5). Executive Membership provides access to essential relationships, professional development, and tailored resources for today's leaders.
To learn more about Executive Membership please visit, Executive (theiia.org)
DATE: January 17, 2023
TIME: 3:30 PM-5:00 PM ET
Registration closes at 11:59 PM ET on January 16, 2023.
SPEAKER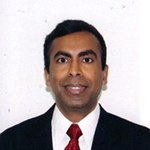 Nimi Yogaratnam​
Head of Internal Audit Senior Director at NuVasive
Nimi is a results oriented Chief Audit Executive with global experience in technology, manufacturing, healthcare, pharmaceutical and insurance industries. He is experienced in risk identification, assessment and management, along with senior management and board of director communications, presentations and reporting.
Specialties include: Internal Audit, Enterprise Risk Management, Process Improvement, Sarbanes Oxley (SOX 404), Corporate Compliance, Fraud Investigations, COSO and COBIT framework, Project Management, GAAP, Revenue Recognition, Lease Accounting, and Team training and development.