Clarity, Impact, Speed: Delivering Audit Reports that Matter, 2nd Edition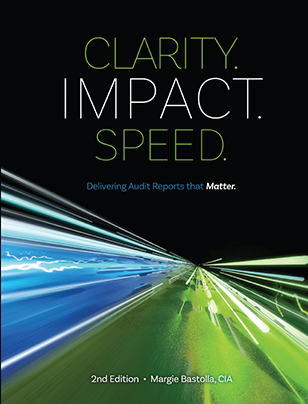 Clarity, Impact, Speed: Delivering Audit Reports that Matter, 2nd Edition
Audit reports spark more frustration and debate among auditors than almost any other auditing task. Most auditors find the report-writing process arduous and time-consuming. Well-executed audit reports are a key resource among stakeholders such as senior management and audit committees. However, the vast amount of information that must be covered often results in lengthy, tedious reports.
Today's audit reports should align with the strategy, goals, and priorities of the organization and intended audiences. This book explores practical, modern communication techniques to get the report's key messages across in a more engaging way.
Topics include:
Introduction to Reporting.
Report Structure.
The Reporting Process.
Developing Content.
Strategies for Reviewing and Editing.
Writing Quality.
Report Format.
Clarity, Impact, Speed, 2nd Edition, is a how-to book for developing shorter, more impactful, and risk-centric audit reports. This book teaches proven approaches that make reports easier to write, easier to read, and easier to implement. It will be of interest to preparers (internal auditors and compliance professionals) and users (senior management and audit committee members).
About the Author:
Margie Bastolla, CIA, is a trainer and consultant who helps internal audit and compliance departments write clear, impactful reports; reduce report revisions; and quicken report issuance. Working in more than 40 countries, she has taught thousands of auditors in hundreds of organizations to think critically and write clearly. Margie also helps organizations design reports that meet their readers' needs. Her training and consulting clients include the Fortune 500, the U.S. military, international agencies, and many private and public sector organizations globally.
Before forming her training company, Margie Bastolla Facilitations, she spent 20 years in executive and leadership roles at The Institute of Internal Auditors (IIA) in Lake Mary, Florida. Previous to The IIA, Margie was an internal auditor for Worthen Banking Corporation and a public accountant for Deloitte in Little Rock, Arkansas. She lives in Orlando, Florida, with her husband, Anthony.