Agile Auditing: Transforming the Internal Audit Process
Rick A. Wright Jr., CIA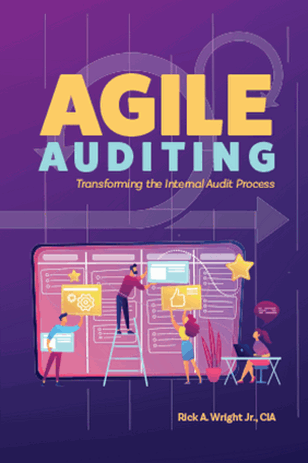 Agile Auditing: Transforming the Internal Audit Process
Agile IA includes process improvements, team-based iterative planning, sprints (time-boxed work increments), daily stand-up meetings, project collaboration with stakeholders, and iterative releases of work products.
Common features of Agile IA:
Focus on value for the organization (rather than audit objectives)

Enhanced client collaboration (part of project team)

Iterative planning, execution, and reporting

Time-boxed discipline (fixed work cycles)

Self-organizing audit teams

Timely audit insights and risk responses (real-time feedback)

Fewer disagreements about audit outcomes between audit team and audit client

Documentation rationalization (simplification of workpapers)
About the Author
Rick A. Wright Jr., CIA, is director of internal audit and enterprise risk management for YRC Worldwide. He has more than 20 years of experience in internal audit practice and training. His career has included roles with various organizations, including The Institute of Internal Auditors (IIA), Kansas City Southern Railway, H&R Block, and Resources Global Professionals. He has been an adjunct professor teaching accounting, finance, fraud, and strategic management courses. He is also founder of Resonate Training and Assurance Services, LLC, where he continues to pursue his passion for adult learning as an author, speaker, and training facilitator.
Wright is an active member of The IIA's Kansas City Chapter. He holds a bachelor of science in accounting from Missouri State University and an MBA from DeVry University's Keller Graduate School of Management.