The Internal Auditor's Guide to Risk Assessment, 2nd Edition
Rick A. Wright Jr., CIA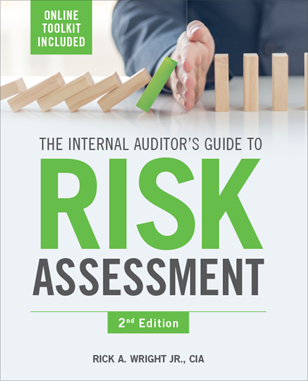 The Internal Auditor's Guide to Risk Assessment, 2nd Edition
Risk assessment is a core activity that impacts internal auditors on a daily basis. That is why it is so important for everyone in the internal audit profession to have the skills and knowledge to successfully assess risk. This update to the popular first edition shows readers how to align risks to business objectives, create a practical audit plan, and conduct a step-by-step risk assessment.
What's new in the 2nd edition:
Updated guidance regarding business objectives and their association with risk
New discussion of best practices and emerging risk assessment topics
Updated audit universe development content
Updated risk prioritization examples
Aligned with The IIA's 2017 International Professional Practices Framework (IPPF)
New templates added to the online Risk Assessment Toolkit, which is included in the purchase price
Whether you are a staff auditor, a new chief audit executive (CAE), or a business professional rotating into an internal audit assignment, this book will equip you to confidently conduct your organization's risk assessments.
About the Author
Rick A. Wright Jr., CIA, is director of internal audit and enterprise risk management for YRC Worldwide. He has more than 20 years of experience in internal audit practice and training. His career has included roles with various organizations, including The Institute of Internal Auditors (IIA), Kansas City Southern Railway, H&R Block, and Resources Global Professionals. He has been an adjunct professor teaching accounting, finance, fraud, and strategic management courses. He is also founder of Resonate Training and Assurance Services, LLC, where he continues to pursue his passion for adult learning as an author, speaker, and training facilitator.
Wright is an active member of The IIA's Kansas City Chapter. He holds a bachelor of science in accounting from Missouri State University and an MBA from DeVry University's Keller Graduate School of Management.