Effectively Leverage Your Most Valuable Asset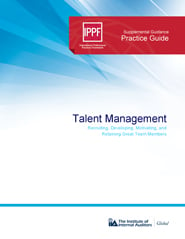 Regardless of organization size, sector, or industry, people are an organization's most valuable asset. Ensuring the internal audit activity is adequately staffed is just one piece of the puzzle. It must comprise the right people, who have the right skill sets, and who are afforded the right opportunities for growth and development if internal auditing is to add real value and meet stakeholder expectations.
Talent Management: Recruiting, Developing, Motivating, and Retaining Great Team Members outlines best practice recommendations for the various elements — everything from assessing competencies and selecting candidates to training and succession planning — that make up an organization's talent management strategy.