IIA Quality Services
External Quality Assessments Conducted by World-Class Experts
REQUEST A PROPOSAL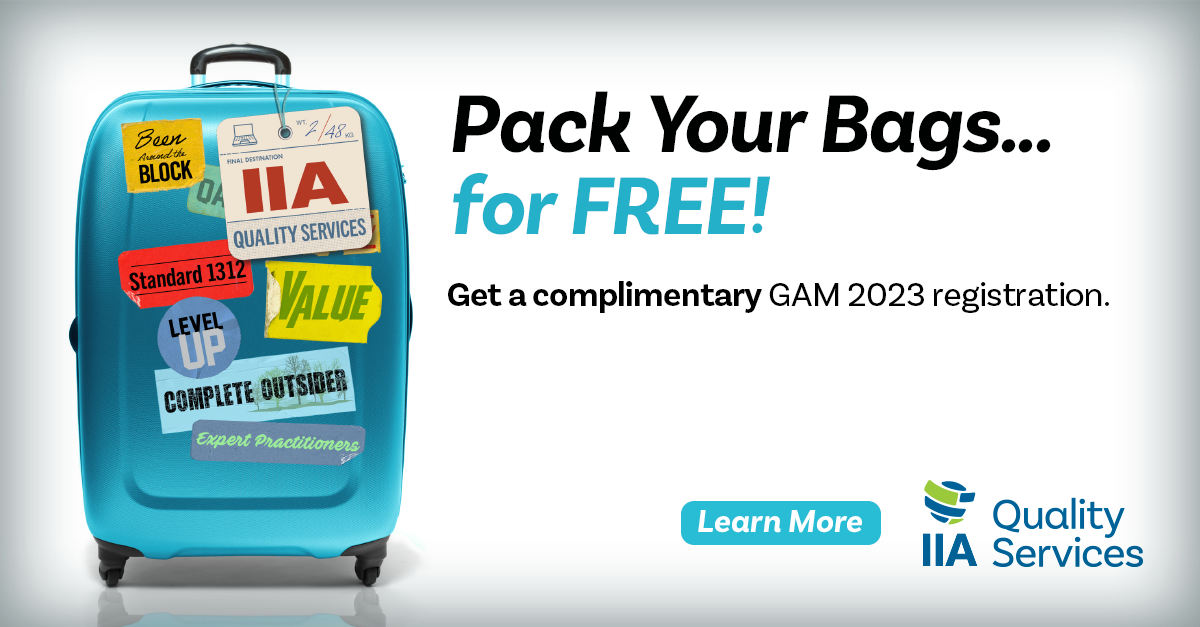 Pack Your Bags...for Free!
Get a complimentary GAM 2023 registration when you purchase and execute a full-scope External Quality Assessment (EQA) for 2022.
Learn More
IIA Quality Services
---
---
IIA Quality Services helps validate and strengthen your internal audit activity and enhances your effectiveness, efficiency, and successful practice implementation.
As a trusted source in the profession, we have helped hundreds of organizations in various industries and around the world by providing qualified audit professionals, a global benchmarking database, and a repository of successful practices. We assist CAEs in gaining support from the audit committee, enhance understanding of why an external assessment is necessary and valuable, and describe the different approaches
IIA Quality Services can help you move your Quality Assurance and Improvement Program (QAIP) to the next level with a range of services and expert practitioners:
For questions about our services, please contact IIA Quality Services at quality@theiia.org.
Readiness Assessment
Before you embark on an external assessment, you may want to confirm that you are ready.
IIA Quality Services will conduct an independent readiness assessment (gap analysis) focused on the internal audit activity's current level of conformance with the Standards, and then make recommendations for remediation of identified gaps to the IPPF. Additionally, opportunities will be identified to improve efficiency and effectiveness, and further strengthen your internal audit activity to add value to the organization.
If you are unsure about your internal audit function's current state, choose a Readiness Assessment and let our expert practitioners offer on-time solutions and successful practices.
---
The most comprehensive external assessment approach is a full scope assessment which supports not only conformance to Standard 1312, but provides an objective assessment of the internal audit activity's effectiveness and enables you to better meet and exceed the expectations of your stakeholders.
This method provides for a qualified, independent team led by an experienced audit professional. Team members should also be competent professionals who are well-versed in the Standards, assessment methodology, and successful internal audit practices. The assessment team works on site at the internal audit activity headquarters, using the Quality Assessment Manual for the Internal Audit Activity to conduct interviews and a review of work papers. A report also is drafted by the assessment team, stating the internal audit activity's conformance or nonconformance with the Standards and any recommendations for improvement opportunities.
As a trusted source in the internal audit profession, IIA Quality Services provides a cost-effective option for a full scope external assessment to all organizations and industries.
---
Self-assessment with Independent Validation
The Self-assessment with Independent Validation (SAIV) approach brings in a competent independent evaluator who is well-versed in quality assessment methodology to validate the self-assessment of the internal audit activity. In addition to reviewing the self-assessment, the validator substantiates work completed by the self-assessment team, makes an on-site visit, interviews senior management, and either co-signs the CAE's internal audit activity's report regarding conformance to the Standards or issues a separate report on the disparities.
Within this approach, the internal audit activity is responsible for completing a complete self-assessment per the Quality Assessment Manual for the Internal Audit Activity. IIA Quality Services, then provides independent validation services delivered by a qualified internal audit professional.
Although the SAIV requires more resources of the internal audit activity, this approach can be more economical than a full scope quality assessment while still meeting the requirements of the Standards.
Engage one of Quality Services' expert practitioners at the onset of your self-assessment to guide you through the validation process.
---
Expert Practitioners
IIA Quality Services has assembled a dedicated and vastly qualified team of subject matter experts to conduct External Quality Assessments (EQA). These audit professionals are internationally recognized as IIA EQA Leaders. They guide internal audit practitioners in collaboration with The IIA's methodology to perform full independent team assessments (QA), validations of self-assessments (SAIV), and readiness assessments for Fortune 500 companies, government agencies, and a wide variety of industries across the globe.