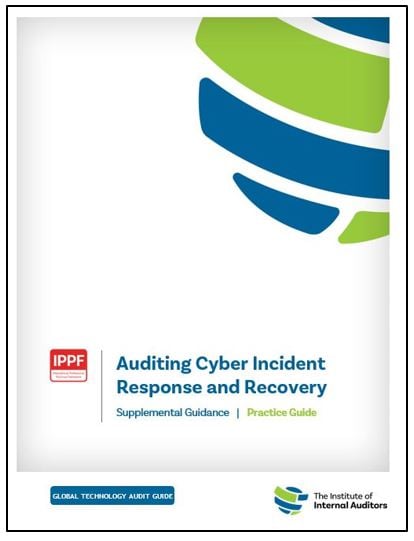 Cybersecurity attacks are increasing as the tools for detecting and exploiting vulnerabilities in networked systems and devices become increasingly sophisticated or commoditized. Threatening technologies and methods are advanced by criminal enterprises, state-sponsored hackers, and others with malicious intentions.
An organization's stakeholders rely on independent, objective, and competent assurance services to verify whether cyber incident response and recovery controls are well-designed and effectively and efficiently implemented. The internal audit activity adds value to the organization when it provides such services in conformance with the Standards and with references to widely accepted control frameworks, particularly those used by the organization's IT-IS functions.
Register for Exploring the New GTAG "Auditing Cyber Incident Response and Recovery" on Wednesday, July 13, 2:00-3:00 p.m. ET, where we'll discuss the importance of having an effective cyber incident management process that will help an organization respond to attacks and restore normal operations timely and securely. Having plans in place is more critical than ever due to the higher likelihood of cyberattacks caused by the pandemic, geopolitical events, and more sophisticated threat actors.