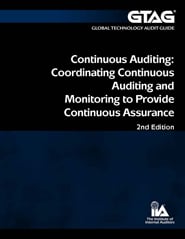 The information in the second edition of GTAG 3: Continuous Auditing: Coordinating Continuous Auditing and Monitoring to Provide Continuous Assurance, provide practitioners the most up-to-date guidance and best practices to enable them to successfully implement a continuous auditing approach. It focuses on technology-enabled aspects of continuous auditing and addresses:
A definition of related terms and techniques including continuous auditing, ongoing control assessment, ongoing risk assessment, continuous monitoring, and assurance.
The role of continuous auditing in relation to continuous monitoring.
Areas where continuous auditing can be applied by the internal audit activity.
Challenges and opportunities related to continuous auditing.
The implications for internal auditing, the chief audit executive, and management.
The guide provides the key considerations practitioners need to implement continuous auditing, which will ultimately help them develop a better understanding of the business environment and the risks to the company to support compliance and drive business performance.