Recommended Guidance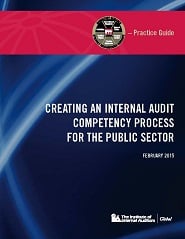 National, regional, and local level public sector internal audit activities work with government officials, boards, CEOs, and management on behalf of taxpayers, consumers of government services, and the general public. The audit function's effectiveness is impacted by unique public sector characteristics, including:
The demand for a high level of transparency and performance.

The usual absence of a profit motive.

A wide variety of organizational forms (e.g., national, regional, and local governments and quasi-governmental and international government organizations).

Complex legal frameworks for governing bodies.
This practice guide complements the Internal Audit Capability Model by providing specific guidance on developing, implementing, and sustaining an IA-CP to ensure that the organization's audit function has the collective knowledge, skills, and other competencies necessary to complete planned audits and to support the audit function as it evolves. The Internal Audit Competency Process attempts to match the capability level of the audit function with the internal auditor competencies needed to support it.