Welcome to the IIA Barbados Chapter!
The Barbados Chapter of the Institute of Internal Auditors (IIA) serves Barbados and the Eastern Caribbean. The Chapter has over 140 members.
Chapter News and Events
Chapter was informed at we achieved the 2021 Building Awareness Champion Award. This award is given annually by the IIA to recognize exceptional commitment to promoting the internal audit profession throughout International Internal Audit Awareness Month in May.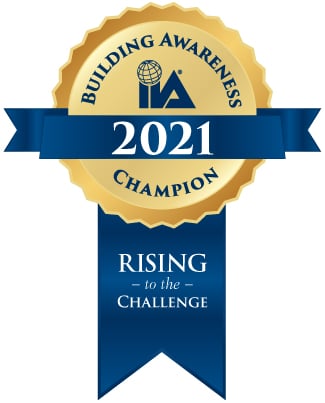 Welcome to the IIA Barbados Chapter

Established in 1941, The Institute of Internal Auditors (IIA) is an international professional association with global headquarters in Altamonte Springs, Florida, USA. The IIA is the internal audit profession's global voice, recognized authority, acknowledged leader, chief advocate, and principal educator. Our members work in internal auditing, risk management, governance, internal control, information technology audit, education, and security. The Barbados Chapter is the 298th Chapter of the IIA. The Chapter was officially formed on December 4, 1999, and currently has approximately 140 members, making it the 3rd largest Chapter in the Caribbean. As part of the global IIA membership of more than 200,000 members, the Barbados Chapter provides training and networking opportunities to internal audit professionals​ across Barbados and the Eastern Caribbean. Our mission is to be the primary professional association in Barbados and the Eastern Caribbean dedicated to the promotion and development of the practice of Internal Audit.​​​​​​​​​​​​​​​

Chapter Officers

Corey Chadderton

President-Elect

Ronnie Norville

Treasurer

Corey Chadderton

Membership Officer

Corey Chadderton

Programming Office

Marcia Goddard

Certification Officer

Building Awareness Champions

We are pleased to be a 2023 Building Awareness Champion!

During Internal Audit Awareness Month in May, we shared our passion for internal auditing, promoting the profession through a variety of events and campaigns designed to inform and engage, raise awareness, and help stakeholders understand the value of internal audit in their organizations.

Welcome to IIA Barbados!

As a Chapter, we will focus on the growth and professional development of our members. This will be accomplished by offering meaningful and relevant programming, and certification opportunities.

Our migration to the virtual platform allows us to bring talented regional and international presenters to our membership. It also facilitates collaboration with other Chapters from around the world.

Here are a few of our initiatives:

- Build Mentorship and Internship Capacity
-'Scholarship Opportunities for Student Members
- Reintroduction of CAE Roundtables

Additionally, there will be special emphasis on Academic Relations as we continue to forge and foster relationships with local tertiary institutions - the University of the West Indies (Cave Hill Campus and Open Campus), as well as the Barbados Community College.

The Chapter is always looking for fresh faces, new volunteers, and ideas. Please feel free to contact me or any Officer if you are interested in becoming more involved within the Chapter.

Selene Coward
IIA Barbados Chapter President
Interested in becoming a member?
Membership means access to our standards, guidance, networking, opportunities, and savings on world-class training.
Become a Member
Interested in becoming certified?
Earning a professional credential is essential to strengthening your knowledge base and be distinguished from your peers.
Become Certified