Chapter News and Events
Oman Training Calendar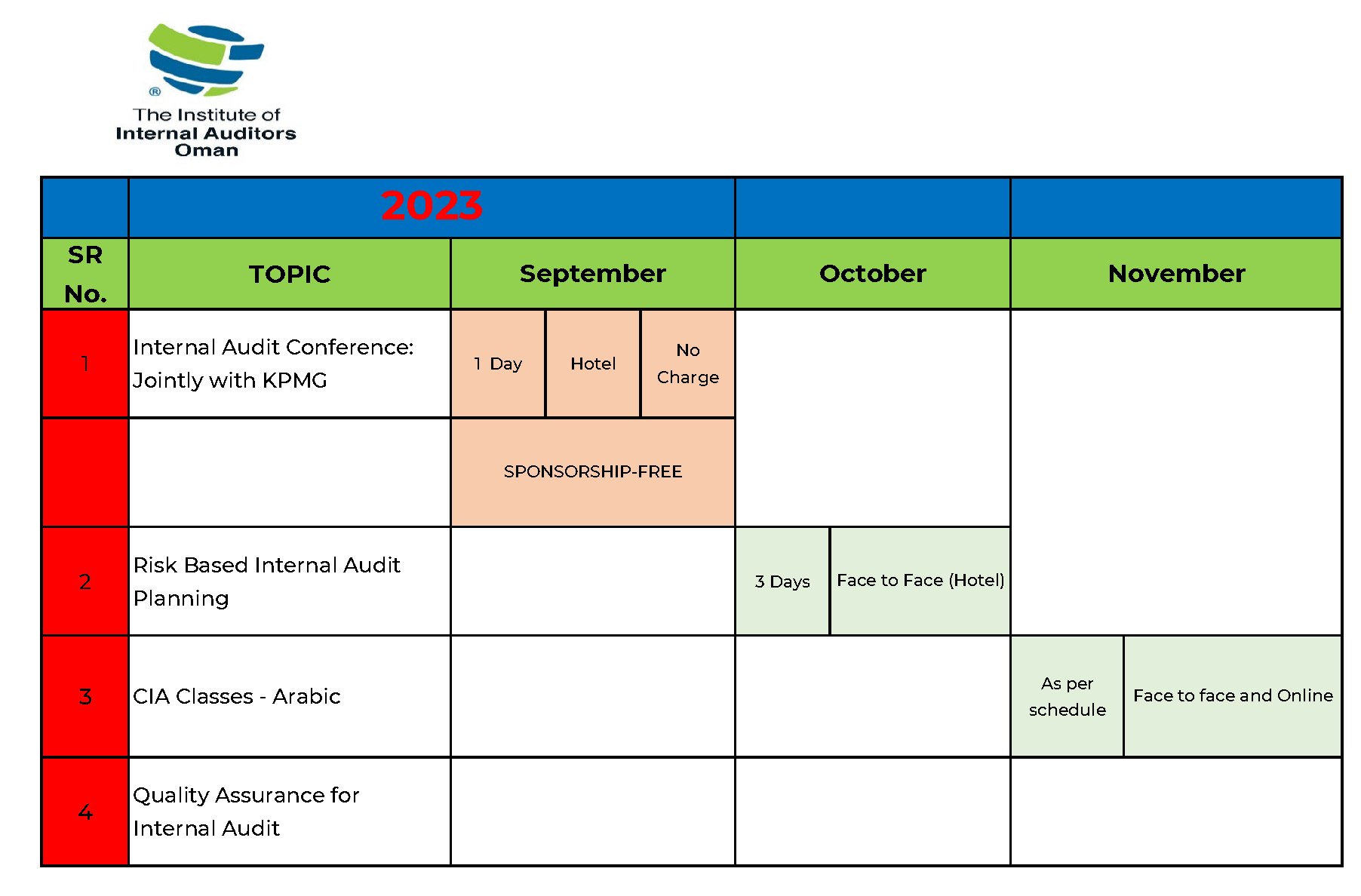 ---
---
Notice and Invitation to Attend the Annual General Meeting
The Board of Directors of IIA Oman Chapter under the sponsorship of CBFS is pleased to invite all IIA
Oman Active members to attend the Annual General Meeting, which will be held on Monday 20th of
March 2023 at 7:00 PM, the meeting will be held at Muscat Hall, CBFS. If the quorum requirement
for holding the General Meeting is not fulfilled, a second Annual General Meeting shall be held
Monday 27th of March 2023 at 10:00 PM, the second meeting will be held via Zoom.
Meeting ID: 869 5529 6986
Passcode: 767865
---
CIA Classes
IIA Oman chapter was established in 2003 and is the only official voice of internal audit in the sultanate. The chapter has over 250 qualified and professional members and operates under the sponsorship of the Colleague of Banking and Financial Studies. IIA Oman's mission is to promote the internal audit profession and provide learning and development opportunities so its members can remain competent and relevant to their organization. To achieve its mission, IIA Oman provides several services to enhance the knowledge of internal audit practitioners and provides education to personnel who are pursuing the studies related to internal auditing (Certified Internal Auditors) or risk management (Certification in Risk Management Assurance). IIA Oman also conducts frequent CPE sessions about the latest best practices and trends in Internal audits.

Chapter Officers

Building Awareness Champions

We are pleased to be a 2023 Building Awareness Champion!

During Internal Audit Awareness Month in May, we shared our passion for internal auditing, promoting the profession through a variety of events and campaigns designed to inform and engage, raise awareness, and help stakeholders understand the value of internal audit in their organizations.

Dear Professional Colleagues

It is my honor to serve on the board with the vision to be a partner for the success of Individuals and Organizations involved in internal audit within Oman.

Our database shows that there are approximately 200 members. Apart from these numbers, I believe that there are still many bright internal audit professionals who still did not join the chapter in the public and private sectors. I encourage you all to advocate for this profession and be the voice of internal audit in Oman.

Being a part of IIA Oman, the members enjoy the lowest IIA membership fees of USD 60 per year. In return, you will be getting the following main benefits:

Full access to IPPF
Complimentary online access to publications.
Free access to educational webinars to enhance your skills and knowledge in internal audit.
Exclusive members pricing for conferences, seminars, and events.
Special Discount on IIA bookstore.

I am looking forward to serving all our stakeholders and providing all support to network and learn from each other. Please join our advocacy and education team to shape the future of IIA Oman.

Meeting ID: 851 1463 9625
Passcode: 167381

CIA Classes 2023
Interested in becoming a member?
Membership means access to our standards, guidance, networking, opportunities, and savings on world-class training.
Become a Member
Interested in becoming certified?
Earning a professional credential is essential to strengthening your knowledge base and be distinguished from your peers.
Become Certified