Welcome to the IIA Los Angeles Chapter!
The Los Angeles Chapter of the Institute of Internal Auditors (IIA) represents members who reside in the greater Los Angeles area.
Welcome to the IIA Los Angeles Chapter

In September 1943, a group of 25 internal auditors from the Los Angeles area signed the charter which established the Los Angeles Chapter.

The professionals wanted an organization that would live up to the IIA's belief in "Progress Through Sharing." They felt this purpose could be accomplished by offering members affordable seminars, professional meetings, and social contact with other colleagues.

Chapter Officers

Patrick Sanders

President-elect, Vice President of Certification and Vice President of Sponsorship

Van Lam

Vice President of Finance

Annette Christensen

Vice President of Administration

Kevin Black

Vice President of Professional Development

Salvador Rodriguez

Vice President of Membership

Erika Poe

Vice President of Communications

Tiffany Britt

Vice President of Academic Relations

Jenny Liang

Director of Finance

Chinatsu Shimanaka

Chair of Professional Development

John Campo

Chair of Communications and Webmaster

Daniel Yen

Chair of Communications

Warm Greetings to our Los Angeles Chapter Members, Supporters, and Friends,

Welcome, all! Please join me in kicking off our 2021-2022 Chapter Year! I am ecstatic over being able to serve you for the next two years as the IIA Los Angeles Chapter President. We have an amazing lineup of speakers and events planned for you, and our incredible team of volunteers, officers, and board members are continuously working to improve the services to our members and the quality of our events. I am so proud and honored to be collaborating with this team of people who share the same passion for the internal audit industry as each of you do, and who help make our internal audit community a valuable resource and inviting place to build and develop strong relationships.

The Chapter has already gotten off to a great start this year! We recently held our first event of the season – our Chapter's flagship event – the annual IIA Los Angeles Conference. This year's theme was "Governance, Grit, and Gravitas," which was carefully selected in order to underscore the crucial elements and characteristics that epitomize the meaning of great leadership, as well as personal and professional success.

In particular, the element of "grit" has stood out to me as having the utmost importance, as it represents our courage, resolve, and strength of character, that as a leader, is not only key to one's own success, but is a crucial factor of decision making and looking out for the best interest of those around you. By now, in this stage of the pandemic, I believe we have all learned a little something about ourselves and have realized that we have all demonstrated a certain level of "grit" in our actions, especially over the past 20 months, digging our heels in, being flexible, and making adjustments as necessary to make our environment and situation work for us. I congratulate each and every one of you for coming this far, and not only being resilient, but being successful in the face of adversity!

If you are interested in volunteering with our incredible team of people, please do not hesitate to reach out. Furthermore, I am always interested in hearing your feedback, thoughts, and ideas – so please feel free to send me a note, or set up a call with me to chat, as I would love to incorporate your ideas as this is YOUR chapter!

In the meantime, I will leave you with one of my favorite quotes – in the wise words of Bill and Ted, "Be excellent to each other!" This is a simple sentiment but is more important now than ever.

With warmth and gratitude always,

Tina Harding​
Interested in becoming a member?
Membership means access to our standards, guidance, networking, opportunities, and savings on world-class training.
Become a Member
Interested in becoming certified?
Earning a professional credential is essential to strengthening your knowledge base and be distinguished from your peers.
Become Certified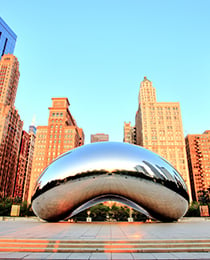 The IIA's 2022 International Conference Chicago
The IIA's International Conference is the premier training and networking event for internal audit professionals worldwide. The IIA is preparing a world-class program focused on delivering topical and forward-thinking presentations to our in-person and virtual audience.
Learn more