Recommended Guidance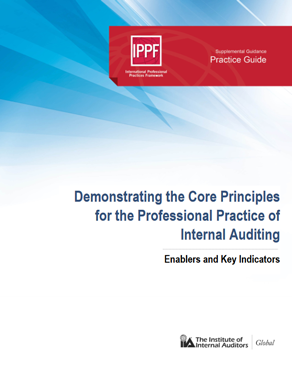 The IIA's Core Principles for the Professional Practice of Internal Auditing, taken as a whole, characterize the effectiveness of the internal audit activity.
This practice guide explains how conforming with the Mandatory Guidance of the IPPF supports the realization of the broader, more encompassing Core Principles.
This guidance will enable CAEs and internal auditors to:
Understand how the Core Principles link to the work of internal audit, developing and improving work deliverables.
Explore measurable criteria for assessing achievement of Core Principles in the context of the IPPF.
Improve communications with stakeholders by using practical and easy-to-understand examples that resonate.
Realize potential consequences of failure to achieve Core Principle behaviors.