Recommended Guidance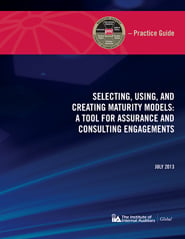 Maturity models provide a way for organizations to determine the current state of the organization as a whole – or any procedure or activity within the organization – as it relates to best practice development. These models can aid in creating development plans and can serve as a tool for internal auditors to use while conducting assessments. However, in order to realize the maximum benefits maturity models can provide, practitioners must select or create an appropriate model for each engagement and apply it in a way that yields the greatest insight.
The IIA's Practice Guide Selecting, Using and Creating Maturity Models: A Tool for Assurance and Consulting Engagements provides practitioners with: key considerations to keep in mind during the selection of a model; guidance on how to effectively use the range of maturity models available; and a step-by-step approach to creating their own model if an appropriate model cannot be sourced.
Through providing insight into the purpose and power of maturity models, the Practice Guide demonstrates that when appropriately selected or designed and then subsequently applied, maturity models can provide:
A framework for envisioning the future, the desired state and the development of improvement plans.
Benchmarks for the organization to compare its processes internally or externally.
A mechanism to provide insight into the improvement path from an immature to a mature process.
A disciplined method that is easy for management to understand and implement.
The guide stresses that when it comes to maturity models, there is no such thing as one size fits all and provides examples of several different types of models and how they can be used to demonstrate this point.