Format:
Welcome to Vision University: The Modern Approach to CAE Success!
CAE- the top audit leader- is one of the most important, and is the most visual position, of the internal audit activity. The challenges that face a new CAE are unique and varied, as are the solutions to overcome those challenges. Participation in Vision University is one the best solutions to becoming a competent, confident, successful CAE.
In this continuous experience, you will experience the benefits of a learning-cohort — both in person, and virtually via a secure learning management system (LMS) platform — have time to practice new techniques at your own organization, receive feedback from both your peers and experienced mentors/subject matter experts, and deepen your learning experience of the course of six months. The continuous learning methodology allows participants to engage with content in segments over time to accommodate the aspiring leader's work-life and learning balance, all while deepening professional relationships with a network of cohorted-peers.
Vision University will prepare aspiring CAEs and/or newly appointed CAEs with strategies to transform the internal audit activity into a critical function that clearly delivers stakeholder value. This continuous learning program will focus on strategic guidance, best practices, peer collaboration and feedback, plus powerful tools to propel you and your team into the future of internal audit.
By taking part of Vision University, you will gain:
Tools to master your role as CAE, whether this is a long-term career plan or part of a rotational model.
Real results from real problems with engaging presentations, discussions, and case studies.
Share knowledge and gain insight from expert instructors, guest speakers, and fellow participants.
Become even more valuable to your company as a trusted advisor.
Network with a community of top executives from a diverse selection of organizations.
Forge genuine relationships with notable executives who lead the internal audit profession forward.
Continuous Learning Program Overview
In-Person Foundational Sessions (12CPEs)-Program Month 1.
Virtual Learning on LMS (6CPEs)-Program Months 2-5, including:

LIVE "Hot Topic" Facilitator Led Webinar Sessions.
Peer Discussion Breakouts.

Apogee In-Person Session with Live-Stream option (12 CPEs)- Program Month 6.
2023 Dates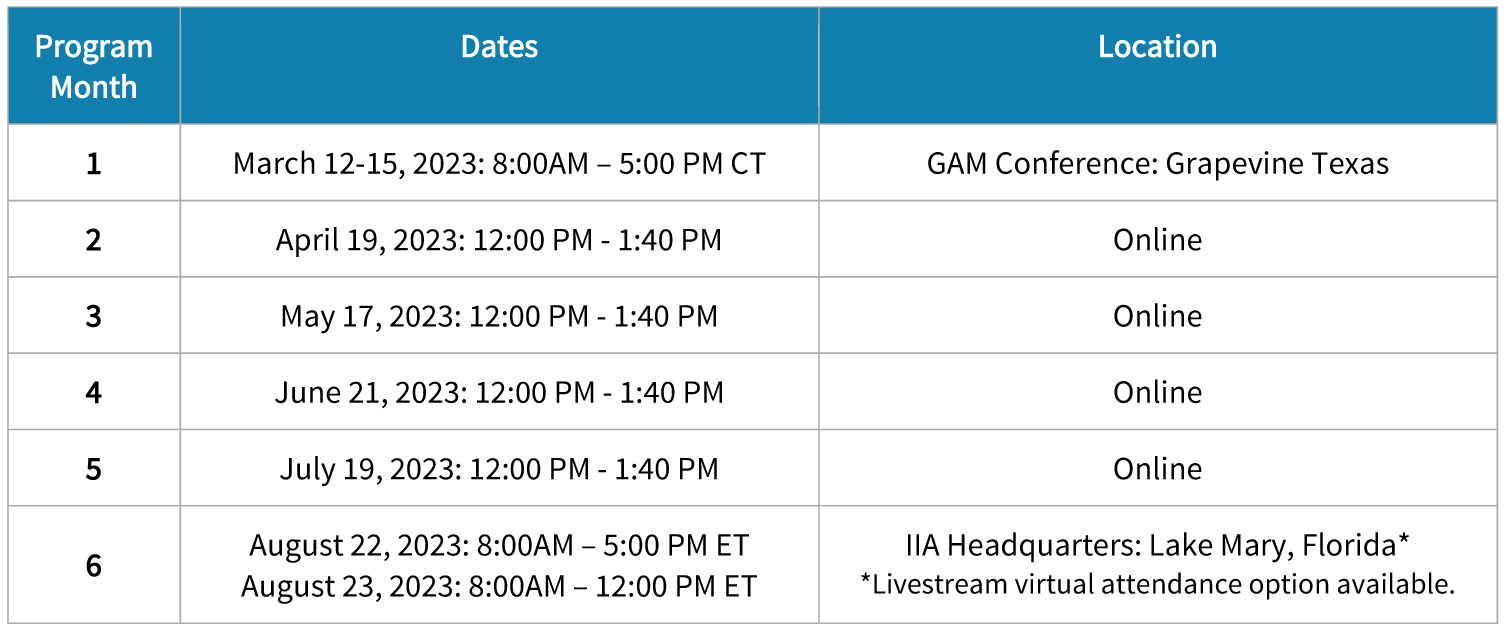 This program kicks off in-person at the GAM conference with 4 exciting days of learning and networking with your VU cohort:
Sunday 03/12/23:
Networking Breakfast.
4-hour Vision University content session.
Networking Lunch.
Complementary attendance to the Executive Center Roundtable and reception.
Monday, 03/13/23-Wednesday, 03/15/23:
The cohorted-learning continues throughout the next 3 days of the conference: attend program specific sessions each day with your VU cohort and enjoy time to debrief each afternoon with your facilitators.
Wednesday, 03/15/23 (after the conclusion of the GAM conference):
Networking Lunch.
4-hour Vision University content session.
Keep scrolling to register.