Format:
NOTE: Your registration confirmation email will come from The IIA. All subsequent emails containing log-in access will come from the webinar presentation provider: do_not_reply@on24event.com. You may want to add this address to your system's "safe" list. Otherwise, it may go to a spam folder. Three log-in/access emails are sent: 5 days prior, 1 day prior, and 2 hours prior to the start of the webinar.
We're now in what many have called the 4th Industrial Revolution. This is a time of great changes and advances in technology, but sometimes our behavioral ethics haven't maintained pace with these changes. Internal audit and business leaders alike need to have a heightened awareness of bias and devise means to keep our human bias in check as we move toward greater reliance on technology.
Online: Wednesday, December 14, 2022 12:00 - 2:00 PM ET
Registration closes at 11:59 PM ET on December 13, 2022
REPLAY
Online: Tuesday, December 27, 2022 9:00 - 11:00 AM ET
Registration closes at 11:59 PM ET on December 26, 2022
Keep scrolling to register.
FEATURED SPEAKER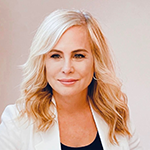 Adriana Sanford, J.D., dual LL.M.
(Tax Law and International & Comparative Law)
Award-Winning Privacy Expert, International TV Commentator, American Program Bureau Keynote Speaker, Professor, Former CNN Analyst, Former Fortune 10 Regional
Adriana is a globally-recognized data privacy expert, who has educated thousands of professionals, students, and the public-at-large on a wide array of topics that focus on cybersecurity, data privacy laws, crisis management, and other pressing global challenges. She has 20+ years of experience with proven results overseeing and driving forward strategic partnerships with various sectors and communities. For the second consecutive year during Microsoft's Give Campaign, she provided the fireside chat on data privacy for the National Cyber Awareness Month of October with Microsoft's Corporate VP of Azure Security and M365.
Sanford is also a Senior Research Fellow and an Adjunct Professor with Claremont Graduate University (CGU), where she teaches Data Privacy, Law Enforcement, and National Security. Recent significant accolades include being featured in Top Cyber News MAGAZINE; Opening Keynote Speaker for the 2022 ISSA-LA Information Systems Security Summit XII in Los Angeles; Opening Keynote Speaker for the 2022 CSWY Awards Gala in Las Vegas; Featured Speaker at 2022 InfoSec World Conference in Orlando; Keynote Speaker for LA Mayor Eric Garcetti's Los Angeles Cyber Lab 2019 Security Summit; and recipient of the 2019 Cyber Law Woman Professional of the Year Award.
Sanford is also an ABA's Featured Speaker and will be presenting webinars on data privacy for the ABA International Committee - Senior Lawyers Division (SLD) and the ABA Export Controls and Economic Sanctions Committee in 2023.