Welcome to the IIA Detroit Chapter!
The Detroit Chapter of the Institute of Internal Auditors (IIA) serves IIA serves the internal audit community of the Metro-Detroit area of Southeast Michigan.
Chapter News and Events
Welcome to the new and improved version of the Detroit Chapter Website. The new site is optimized for use on both computers and mobile devices. As you navigate through the site, you'll notice that everything you need is much easier to find. If you have any comments or questions, please email us at: Chapter2@iiachapters.org.
Welcome to the IIA Detroit Chapter

The Detroit Chapter of the IIA serves the internal audit community of the Metro-Detroit area of Southeast Michigan.

Established in 1941, The Institute of Internal Auditors (IIA) is an international professional association with global headquarters in Lake Mary, Florida, USA. The IIA is the internal audit profession's global voice, recognized authority, acknowledged leader, chief advocate, and principal educator. Generally, members work in internal auditing, risk management, governance, internal control, information technology audit, education, and security.

Globally, The IIA has more than 200,000 members. The IIA in North America comprises 159 chapters serving more than 70,000 members in the United States, Canada, the Caribbean (Aruba, Bahamas, Barbados, Cayman Islands, Curacao, Jamaica, Puerto Rico, and Turks & Caicos), Bermuda, Guyana, and Trinidad & Tobago. Members enjoy benefits offered by the North American Service Center including local, national, and global professional networking; world-class training; certification; standards and guidance; research; executive development; career opportunities; and more. Internal auditors throughout North America enjoy free members-only webinars and national conferences such as the General Audit Management Conference, the Governance, Risk, and Control (GRC) Conference, and the All Star Conference. The IIA's Audit Executive Center provides chief audit executives relevant and timely thought leadership and connections to peers for benchmarking and sharing best practices. And resources such as IIA Quality Services make The Institute an indispensable partner to you and your organization.

Chapter Officers

Peter Hartung, CIA, MBA

President

Carrie Schrader, CISA, CFE, CRISC, CGEIT

Secretary

Alan Demir, CIA, CPA, CICA, CGMA

Treasurer

Nakia Robinson, CICA

Membership Committee Chair

Eulonda Whitmore, CIA, CRMA, CCA

Certification Committee Chair

Michael Macdonald, MBA, CMA

Programs Committee Co-Chair

Lola Foster, CIA, CFSA, CRISC

Programs Committee Co-Chair, 2nd Past President

Board of Governors

Kamilla Williams, CRMA, MBA - 1st Past President
Sharon Gipson, CPA
Rick Lowe, CIA, CPA, CISA
Joe Miko, CIA, CISA
Karen Muglia, CICA – 3rd Past President
John Pagac, CPA
Sajay Rai, CPA, CISSP, CISM
Brian Smith, CIA, CPA
Jason Thomas, CIA
Laurie Eissler, CPA, CIA, MBA
Mike Peters, CIA, CPA, CISA, CRMA

Administrative Roles

Richard Cozart, Website & Newsletter
Amber Dunn-Egerer, Administrator

IIA Rock Star of the Month:

The IIA Rock Star award recognizes a member who is early within their Auditing career or new to an internal audit role and who demonstrates any the following:

Is an Innovative, Inspiring and Awesome Auditor;
Chapter Champion of their company;
Rallies the people to attend IIA meetings and events;
Understands the IIA Standards and able to apply appropriately;
Utilizes and references IIA standards in their daily work environment;


Nominations should include a detailed explanation as to why you believe your nominee is the IIA Rock Star of the Month and be submitted to the Awards Committee Chairperson, Eulonda Whitmore at as3842@wayne.edu. The Rock Star awardee will be announced during our monthly Chapter meetings. This is a great way recognize and show appreciation to your coworkers and doesn't cost you anything except 5 minutes of your time.

Scholarships:

Coming soon. 2022 Scholarship Award Nominations.

Greetings!

Welcome to a new chapter year!!! I am delighted to serve as your chapter president as we continue to evolve through this time of change. I am the Audit Quality Assurance Manager at Wayne State University Office of Internal Audit. I have volunteered with the Detroit IIA for many years, have been recognized as a Rock Star of the Month and previously served on the board as the Membership Chair. It is a great time to be involved with the IIA! Managing our personal and professional lives through a pandemic has proven to be challenging in many areas. Throughout this time, we have demonstrated our unique qualities, strength, perseverance and resilience through these unchartered times. We have discovered new ways to serve, communicate, and even celebrate with our families, friends, peers, and colleagues. We have even broadened our reach by offering virtual programming and methods of communicating. However, when we talk about change, we have merely penetrated the surface. Our board members are volunteers and continue to work hard to prepare for this chapter year. I want to thank each of them for their service and commitment to The IIA Detroit Chapter. I also would like to extend thanks to all of our IIA Detroit Chapter membership. Your participation in our webinars, training, monthly meetings and annual spring conference has helped our chapter continue to thrive.

Last year, our IIA Detroit Chapter Board did an amazing job in providing value-added programming, webinars, scholarships, awards, certification recognition, annual spring conference, training, and advocacy. Thank you to our long-time past Detroit Chapter board members, Christine Dobrovich, Dr. Bob Okopny and Erin Erickson, who each served for 10 years or more. We appreciate your time and service. We are excited for another great year ahead and look forward to providing you with resources, events and more opportunities to get involved and stay connected! This year, we will continue to be forward driven and build on our rich history as a chapter of excellence! We began our chapter year with recognition from The IIA CEO as a building awareness champion. Receipt of this recognition further solidifies The IIA Detroit Chapter as a Chapter of Excellence. Let us continue to strengthen, shape, grow and develop the future of the IIA.

If you have topics of interest for our chapter meetings and/or webinars feel free to contact me at kamilla.williams@wayne.edu. On your mark, get set, let's go… We're off to another great year!!!

Kamilla Williams

IIA Detroit Chapter President 2021-2022
Interested in becoming a member?
Membership means access to our standards, guidance, networking, opportunities, and savings on world-class training.
Become a Member
Interested in becoming certified?
Earning a professional credential is essential to strengthening your knowledge base and be distinguished from your peers.
Become Certified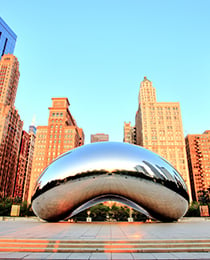 The IIA's 2022 International Conference Chicago
The IIA's International Conference is the premier training and networking event for internal audit professionals worldwide. The IIA is preparing a world-class program focused on delivering topical and forward-thinking presentations to our in-person and virtual audience.
Learn more